Croatia - rafting
Croatia is not well known as place for rafting, in spite of there is beautiful and wide rivers with amazing views. Rivers are using as source of energy and they are loosing sense for watermen. Rafting is not allowed at all rivers if you don't have license IRF.

River Dobra in the northeast part of Gorsky kotar is one of the most visiting river in Croatia. It is dammed, safed river with couple of wild parts (IV. and V) and big waves. The best part for rafting is wild part from hydro power station to the village Lesce. River is getting be quiet and slow. This one day trip finish after 17 km near hot spring.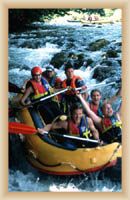 Water from river Cetina Cetina is deflex to the power station near Split. Cetina is great for scenic rafting and bathing under the water fall in Studenec. River Cetina makes amazing glens: Gornjacka, Dragovicka, Derventska, Obrovacka (near city Obrovac Sinjski), Triljska (by town Trilj) and Zadvarksa (near town Zadvarje) Rafting guides rafts usually at the part Slime (Pensici) – Radmanove mlinice (8 km) Start point at the middle part are Trlij or Blato na Cetini. Start point for upper part are villages Trilj with amazing canyon or town Sinj. It is possible to see there canoes and catamarans also. Great place for boat's trips is last 5 km ahead of orifice of Omis.

River Zrmanja in in the South Dalmatia is 69 km long. Zrmanja has amazing canyon, clear water, and the most high water fall. Canyon is the one of the most beautiful in Europe. River is floatable to Obrovec and makes couple of steps of water falls (Veli Buk – 10m), cascades and rapids. The most beautiful part is from town Ervenik to the dam Muskovic. Guide is recommended for rafting.
Part of river Una, from the waterfall Strbacki Buk is great for rafting. Right bank is Croatian, left bank is Bosen's, but both are very beautiful.

Other beautiful rivers for rafting are Kupa (upper part), Mrežnica (one of the most clear and most beautiful river situated on the south from Karlovec), Korana and Krka.
Back
Home Dalmatia
Dalmatia - Accommodation by type:
Croatia - Catalogues of accommodation: